TimeCop - Bareknuckle vs Overtime Nootropic Pre-Workout
JUST THE FACTS AND NO BS!
Loaded with pump accelerators and nootropics†

Maximizes power and strength.†
Accelerates focus and intensity.†
Increases blood flow and performance.†
Zero fillers.†
100% Transparent Label.
TimeCop is the ultimate nootropic pre-workout mash up ever. In fact, it's the first to ever hit the market. Apollon combined its world famous non-stimulant Bareknuckle with its endless energy nootropic Overtime to create this hard hitting masterpiece. YOUR MIND WILL BE BLOWN JUST AS MUCH AS YOUR FULL BLOWN PUMP!

While one scoop is the recommended serving size due to the potency, it would be wise to start with half a scoop to assess your individual tolerance. Maybe even less if you've taken some weak garbage from "legacy brands."  You may be thinking to yourself, "Eh, I can start with the full serving – I can handle it."

As mentioned above, the precise mix of ingredients found in this pre-workout powder is what increases the strength and gives you the nooptric EDGE to crush anything you want to in the gym skin splitting pump. This unique array of  ingredients work together to enhance the overall effect felt during your intense workouts. 
Are you still interested? Then step up and mix it up. TimeCop is here for a limited time only so once it's gone who knows when it's coming back. You know as well as we do we're full of surprises so we don't even know. We didn't compromise and we're here to DOMINATE.
Customer Reviews
89
reviewers would recommend this product
Write a Review
Ask a Question
01/27/2023
Jose L.

United States
I recommend this product
Honestly, I love this company and the mixture is amazing and hits smooth, however the flavor was not at all there. I ordered Peach Mango and the taste was not good at all. For 70 bucks, I want something that tastes good. Flavor was a 0.
01/27/2023
Stephanie D.

United States
I recommend this product
First time
Great energy and intense focus! Definitely recommend on your heavy days
11/19/2022
Josh C.

United States
Timecop
This is it.. this produced the best workouts I've ever had every time.. the focus the pumps the energy the feel good vibes everything was awsome and the taste wasn't bad either. I can't say it tasted good but it wasn't bad at all either.
11/18/2022
Fernando B.

United States
Just great
Great energy and focus.
11/17/2022
Cody N.

United States
I recommend this product
Great Workouts
Love this product. Great focus and energy.
11/16/2022
Stephen S.

United States
I recommend this product
Amazing!
I absolutely love this pre-work. On rest days I take a quarter scoop in the morning instead of coffee. Followed up 2 more through out the day if needed. On training days I start with half scoop. Then add another half scoop intra-work out if needed. Crazy Mental focus and mood boost. Great pumps, huge strength increase. Highly recommend!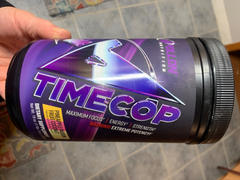 03/03/2022
Dani W.

United States
I recommend this product
Amazing!
This stuff is absolutely mind-blowing! Can not recommend it enough. Insane focus, RIDICULOUS pumps. 10 out of 5 stars.
02/04/2022
Brandon G.

United States
I recommend this product
Timecop
THIS THING SMACKS! Be ready for a tunnel vision workout focus with a great pump.
01/31/2022
Joseph G.

United States
I recommend this product
Super focus
This is my new favorite pre workout. Super focus.