Assassin - Ultimate Anarchy Pre-workout
When it comes to hard-hitting pre-workouts, no one other brand stands a chance against Apollon Nutrition. Yes, we create a lot of controversy and rightfully so. We do what it takes to give our customers THE STRONGEST supplements money can buy and WE DON'T CUT CORNERS. 
Customer Reviews
96
reviewers would recommend this product
Write a Review
Ask a Question
I recommend this product
Mid
First of all, the taste was absolutely horrid. To be fair I don't like guava or green tea. Usually I am a very high believer of huge caffeine. However after one scoop I was left feeling the effects for several hours after. I would say if you got a better tasting flavour and have started with half a scoop then I would like it more.
01/10/2023
Eric K.

United States
11/28/2022
Luis M.

United States
I recommend this product
Still On Top Of The GAME!
Hands Down Still on Top of The Game. ASSASSIN KILLS IT NUFFSAID100%
11/19/2022
Josh C.

United States
Assassin
It is ok.. I don't like the taste and there's something about it makes my brain almost hurt?? I get great workouts but just don't feel that great while using it
10/01/2022
Graham S.

United States
I recommend this product
Good pre
This is def for advanced stim users only use 1 scoop, it does the job but I would also not use this if u already have problems with your heart or aniexty
09/13/2022
Thomas M.

United States
I recommend this product
Assassin
Overloaded with caffeine and doesn't hit like something with DMAA, I take a preworkout with 60mg of DMAA( Not overloaded) and less ingredients and I like it better. Thanks for the experience.
08/23/2022
Alfred G.

United States
Great taste
With this Assassin pre-workout , it is as described you will be super focused and not disappointed taking this pre-workout.
05/02/2022
Jake W.

United States
I recommend this product
Not as good as last time
The mixture of the container were clumped had to break n shake apart mix... made for inconsistent drinks. Would recommend just iffy if it's clumped.
04/04/2022
Matthew E.

United States
I recommend this product
Assassinating the Competition
Focus, energy, euphoria and performance. The guava matcha tea flavor uses real organic matcha tea in it as well which I think is great and just another example of Apollon's commitment to quality…This one didn't make me want to grab a brick and smash it against my for head either. Positive let's do this euphoria and excellent long lasting focus ‍♂️…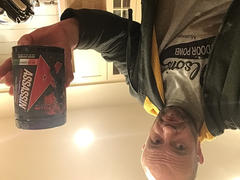 02/15/2022
Jethro W.

United States