Overtime Universal Soldier - Gaming, Focus, & Productivity Elixir
Nootropics are well-known compounds that enhance cognitive performance and health.
They're routinely used to improve:
And, there's been a tidal wave of nootropic supplements to hit the market over the past few years.
However, the vast majority of these products are complete and utter garbage. Sure, they might claim to be a nootropic, but in reality they're nothing more than some caffeine and a pixie-dusting of prominent cognitive enhancers like Alpha GPC, Huperzine and Bacopa Monnieri. 
In true Apollon Nutrition fashion, we saw a niche of the supplement industry that begged for correction, and this led us to the development of UNIVERSAL SOLDIER!
UNIVERSAL SOLDIER is what every nootropic/productivity supplement claims to be but rarely lives up to -- a true nootropic to boost memory, focus, learning, creativity, motivation, and attention.
Basically, if you're fed up of being unmotivated and lethargic, tired of struggling for that spark of creativity, and/or at wit's end because you can't figure out how to "hack" your way out of brain fog, then UNIVERSAL SOLDIER is your solution!
We've brought together a precise collection of the best nootropic supplements on the market to engineer the ultimate performance and productivity supplement for students, professionals, athletes, gamers, and everyone in between!
●
FULLY LOADED FOR MAXIMUM EFFECTS†
●
Increased energy & focus†
●
Greater mental clarity & productivity†
●
Strong, long-lasting focus & attention†
●
Heightened awareness & recall†
●
Amplified cognitive performance†
●
Zero fillers, jitters or crash.†
●
100% Transparent Label.
Highlights of UNIVERSAL SOLDIER
●
NATURAL NOOTROPIC FOR BOOSTING MEMORY & FOCUS
UNIVERSAL SOLDIER is a powerhouse nootropic that amplifies focus, creativity, mental speed, memory and recall with ingredients like Alpha GPC, Bacopa Monnieri, nooLVL, and Huperzine A.
●
SHARPEN YOUR MIND
How you feel and perform is greatly impacted by your cognitive function and well-being. Too many of us walk around in a constant haze of brain fog, impairing our ability to think, create & perform at a high-level. UNIVERSAL SOLDIER supplies powerful nutrients that encourage faster thinking, tighter focus, and greater reaction time & productivity.
●
MOOD ENHANCER
UNIVERSAL SOLDIER isn't just for productivity & focus, it also offers mood support by enhancing how your brain interacts and recovers from the stressors of everyday life. This ultimately lifts your spirits, helping you to feel better mentally, so you'll perform better in all aspects of life.
Customer Reviews
100
reviewers would recommend this product
Write a Review
Ask a Question
I recommend this product
It works
I was a bit skeptical with the claim's but it works. The first time taking Universal Soldier I tried a full scoop and felt it was a bit much. Went down to half a scoop on an empty stomach and that seems to be the sweet spot. I would highly recommend this product if your looking to enter "THE ZONE"
08/20/2022
EDWARD C.

United States
I recommend this product
Best Products
Recommend all Apollon products work as promised! Received my order in 2 days
08/10/2022
Adam R.

United States
I recommend this product
In a category all by itself
Not a fan of overly caffeinated stim your veins closed pres. This sup is not that. Rather it's a perfectly balanced nootropic with just the right get up and go. It's now and likely to remain a leg day staple. I like to add pure l citrulline and/or arginine for some pump and it's a perfect leg day pre.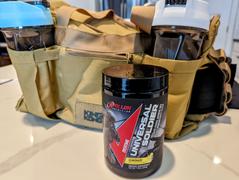 06/21/2022
Tom D.

United States
I recommend this product
Great Focus!
Great focus and clarity
06/15/2022
Manny L.

United States
I recommend this product
Overtime universal soldier
It definitely gets you locked in the zone and would be worth it if there was more servings for the price.
06/10/2022
Josh C.

United States
I recommend this product
Universal soldier
Loved this.. taste amazing felt great.. a unique experience.. did not last as long as I expected tho.. after about 3 or 4 hours I felt the need foe more , not a big deal.but that's why only 4 stars